Inquiry or ask a question
4KITS-6FT-Table Covers (Standard,Full Back )
Market Price:
$1200.00
VIP Price:
$478.00
Prices based on 4Kits table covers with full color printing ,4 separate images or 
same one  , Table covers / cloths only no hardware .Fabric is :9OZ polyester .
Lead-Time : 3-7 Working days! FREE SHIPPING
Built-To-Order
Email to Friend
Products Cost Total:
$478.00
Product Description Graphic Information Instruction
Free Shipping : 3-7 Working days;
Table cloth-Custom Graphics ;
Fabric Material:
9OZ
Polyester;
Print: White Fabric Dyed Completely with Imprint Colors
Prices based on 4Kits table covers with full color printing ,4 separate images or same one  , 
Table covers / cloths only no hardware .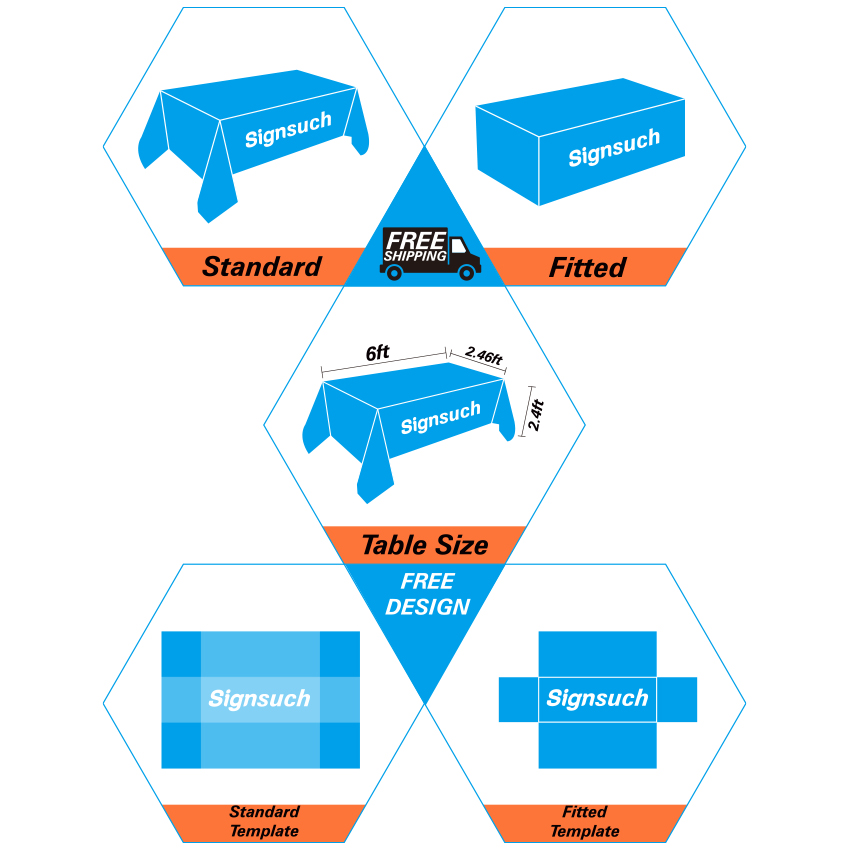 Custom Dye Sub Table Throw is sure to be a hit at your next tradeshow or special event. And our Custom Dye Sub Table throw is printed with your image for full coverage to create a unique look!
This is standard ,all side close.
• Dye sublimation
• Full color printing.
• all-over printed with your image for a unique look .
Dimensions:
6' Cover: 6'(L)X 2.4'(H)X 2.46'(W)

This table skirt, also known as a tablecloth, is printed using a full-color dye-sublimation procedure. Dye-sublimation is a process that is used for 4+ color designs, complex art, photographic images, and instances when exact color matches are needed. This table skirt starts off white and is completely covered in the imprint colors of your choice. Your custom design may cover the entire tablecloth, and is not limited to the front panel (see images). This cover, table skirt is manufactured of a premium polyester twill fabric that is flame retardant and machine washable.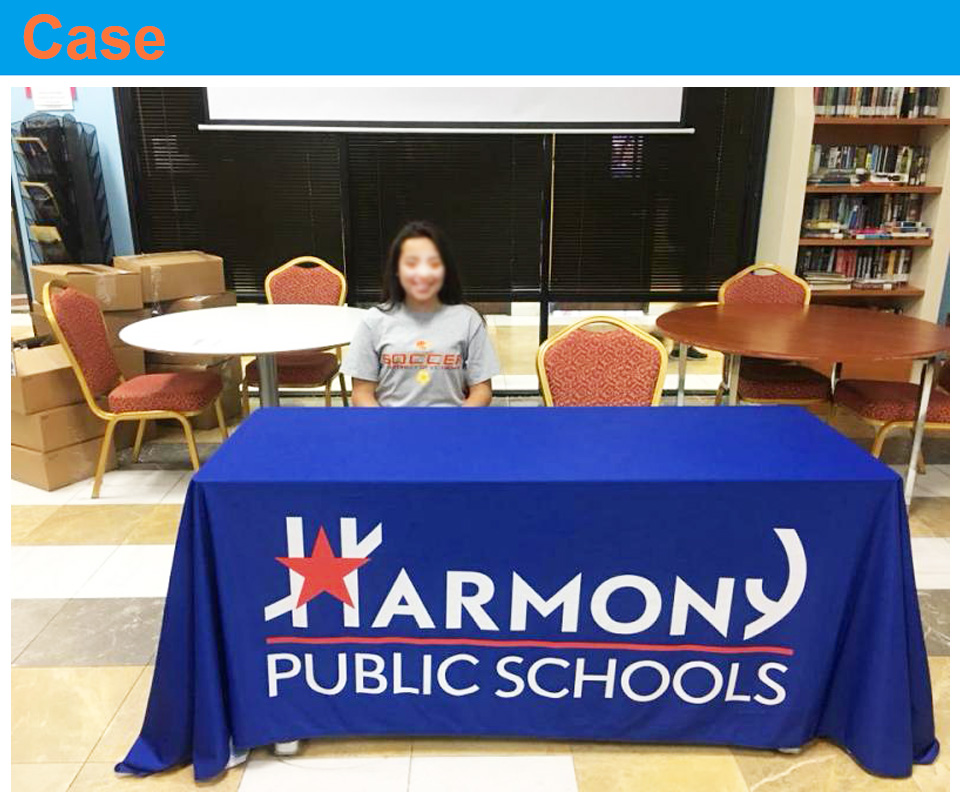 NOTE:
Outline all fonts,link all images,flatten your files before send it to [email protected]
.
The file mode should be sent to CMYK (Cyan,Magenta,Yellow,Black),not RGB .
If submit a non-CMYK file,coverting any other types of color modes to CMYK will result in color shift or degradation.
JPEG in 100% Scale at 100dpi .
PDF (Font outlined) or AI (Font outlined) are best formats for printing.
6' Cover: 6'(L)X 2.4'(H)X 2.46'(W)
Full color dye sublimation printing;
Placed image should have a resolution of 150 pixels per inch at full size for best
Graphic printing quality. However,in case if you don't have high quality pictures,
Please make sure to keep your resolution at 100 Pixels per inch at full size.
Text:
All text must be to converted to outlines.
Color matching:
Any critial colors must be called out as a Pantone code.
A correct file format:
PDF and high-res JPEG are the best formats to submit your artwork.
What's one of the best ways to attract customers and showcase your valuable goods? The table skirt we have to offer can easily handle those needs! Hundreds of products are currently in stock, ready and waiting for you to browse through them to find your ideal product. Choose from tablecloths, throws, skirting, and runners as well as table skirt with full bleed imprint allows for photo quality products. Making sure that we have the trade show products that can be used anywhere and anytime is one of our business goals. Check out our economy tablecloths as well as our custom printed throws that can be built to suit your every business need. Purchase table coverings at wholesale prices online right now. These Table Skirts Transform Trade Show and Banquet Tables!
High quality tablecloths are available for sale every day on our website. Looking for tablecloths that can be printed with photographic imagery? This dye-sub table skirt is capable of showcasing four or more colors! This-These table skirt is-are the ideal match for conventions and other large events! This-these table skirt allows you to arrange your booth exactly the way you need to showcase your products to their best advantage. Placing merchandise on a high contrast, professional looking surface entices passersby and patrons to stop and take a look at what you're offering. These trade show covers are crafted to be used in many different settings. The tablecloths and throws come in a number of different sizes, from small, inexpensive runners to expansive full length toppers.
This Dye-Sublimated Table Skirt Attracts All Kinds of Attention! Tools such as bring style and durability to any situation. These Table Skirts are our Best Sellers, and come in a variety of colors to many different styles of decor. By using banquet covers on your display, this-these custom table skirt can hide older and worn surfaces while still keeping the price incredibly affordable. From the full color custom designs to basic table runners, we've got them all in our online catalogue! This-these table skirt is-are built to work in almost any situation to make your merchandise look as best as possible – and all for an affordable price!
Recently Viewed Products

Customer Reviews
Customers Who Bought This Item Also Bought
Customers Who Bought This Item Also Bought